By PaulCochrane | May 15, 2014
Perspective… is everything.
Scenario 1:
It's late Friday afternoon. You and everyone else at the crowded airport are trying to get home after a long week. Every flight is packed! But you're looking forward to tonight's birthday party for your daughter. When you finally get your seat assignment your heart sinks as you realize you're stuck in the very last row — you know, the one that won't recline because of the wall right behind your seat. (That wall, by the way, is for the restroom. This means there will be constant traffic and flushing noises to keep you company on this flight!) Your seat is the "window" seat, which for this row means you get to stare at the jet engine — a mere 6 inches away from your "window" and roaring so loudly you won't be able to hear yourself think. You're more than a little peeved. Your rising temperature rivals that of the hot jet exhaust on the other side of your window. Thankful? Hardly.
Scenario 2:
It's late Friday afternoon. You and everyone else at the crowded airport are trying to get home after a long week. Every flight is packed! But you're looking forward to tonight's birthday party for your daughter. Standing in the long line for a seat assignment, however, it becomes apparent that the airline has overbooked the flight and you and about ten others are NOT going to be on this flight. The next available flight has you arriving home at 2:30 p.m. on Saturday. There goes the birthday party and half the weekend! But all of a sudden your name is paged and the clerk tells you, "We have one seat and one seat only that just became available — it's a window seat next to the jet engine on the last row; it doesn't recline because of the wall for the restroom. Do you want it?" You're ecstatic: "Absolutely!" And you ride all the way home with a smile on your face in that upright, noisy "window" seat. Thankful? Absolutely. All you needed was some perspective.
Just this week the Lord gave me one of those perspective adjusters. On Monday afternoon I pulled hard on the rope to start the gas engine of my pressure washer. The rope broke and my clenched fist flew up into my eye. The pain was intense. A black eye developed pretty quickly. More worrisome, after a couple of hours I started seeing black lines and spots in that eye. Early Tuesday I went to the eye doctor, who was immediately concerned: "There are two kinds of retinal detachment. One is extremely serious and we'll be sending you right into surgery if that's the type you have. Retinal reattachment surgery involves four weeks of lying face-down in recovery, and you may still lose your sight." My heart was pounding.
By the Lord's mercies I do not have the serious kind of retinal detachment. But the doctor said I will have these floating black lines and spots for the rest of my life.
As soon as I could get alone I knelt down and thanked the Lord for these black lines and spots. I have decided to embrace them as life-long reminders of God's merciful preservation of sight in that eye. Perspective.
Are you in a tough spot, friend? My prayer for you is that the Lord will grant you an enlightened perspective for the situation in which you find yourself. Will you receive that from Him?
Blessings,

Topics: Pastor's Blog | Comments Off
By PaulCochrane | March 27, 2014
On a day that seemed like any other… 


239 people in Kuala Lumpur boarded a plane for Beijing. Since more than 93,000 commercial flights take off and land every single day of the year without incident, these passengers had little reason to think their plane would not arrive.
Just a few days later… 176 now unaccounted-for people in Oso, Washington were going about their normal lives on a Saturday morning. Suddenly, a massive chunk of rain-soaked mountain plunged to the valley below like an avalanche, roared into the small town of Oso, and obliterated some 49 homes.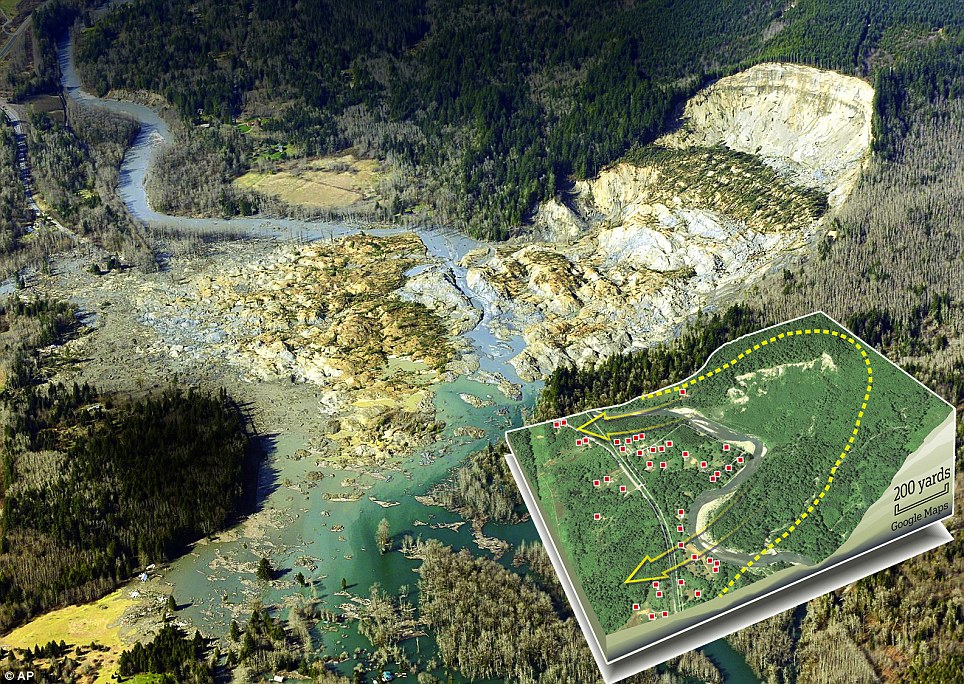 In the days since these two events we've been transfixed by scenes of family members grieving their loss.
Yet these events are merely dramatic illustrations of the fact that every single day about 150,000 people leave this life and enter eternity, many with no more warning than those on the plane or in Oso.
And this is why it is imperative that we share the Good News. Because the people you are connected to — just like those on Flight 370 or in the town of Oso — may not have tomorrow either. Is this the reason for Jesus' urgency when He said, "night is coming when no one can work" (John 9:4)?
This Sunday we continue our current series — Simply Sharing the Gospel — with a look at how Jesus brought the Good News of salvation to Zaccheus. I think you'd find it beneficial to "prime the pump" by reading the story again (Luke 19:1-10) in preparation for our study. I look forward to seeing you and to our time together in God's Word.
Blessings,
Topics: Pastor's Blog | Comments Off
By Paul Cochrane | March 27, 2013
Dear Woodland Hills Family,
In the opening two verses of the book of Ruth we read that Elimelech and Naomi were 
Ephrathites 
of Bethlehem in Judah.  Why did the writer tell us this and what is an 
Ephrathite?
Before it was called Bethlehem it was the ancient city of Ephrath. The Ephrathites, then, were the people of that ancient and noble lineage. To be born an Ephrathite meant being one of the more well-to-do land owners and prominent citizens. They were probably the "old money" of the region, with connections, influence, and means.
Elimelech and Naomi, as Ephrathites, were likely part of a distinguished family. We may assume they were accustomed not only to the benefits of personal wealth, but also to its accompanying privilege and respect.
But then famine struck. And no doubt their net worth took a hit. As did the privilege and respect they had enjoyed.
Have you ever noticed this about people who are accustomed to the benefits and privilege of wealth? They do not relinquish them readily.
Fear of the loss of wealth, and with it the imagined loss of influence and respect in the community may have been a powerful motivating force behind Elimelech's decision to sojourn in Moab: "Honey, this famine is ruining us!  We'd better take what we have and get on over to Moab… while we still have something left to take! After we rebuild our assets we'll come back."
But look what it cost him! And his family. As one person said: We make our decisions and then our decisions turn around and make us.*
Lord, I recognize that I, too, am in danger of asset attachment. Please strengthen my resolve to use the influence and possessions You've entrusted to me solely for Your purposes. And if I falter in this, I reaffirm my request that You remove whatever proves to be unhealthy to the condition of my soul.
Blessings,
Topics: Pastor's Blog | Comments Off
By Paul Cochrane | February 21, 2013
Dear Woodland Hills Family,
For our final gleanings on weakness and its benefits we turn to the Apostle Paul — one who was keenly aware of his weakness and inadequacy.  He used words like "always" and "constantly" when referring to the hardships he encountered. And then there was the constant plague of that debilitating thorn in his flesh.  His summary is telling:  "we are afflicted in every way."
Yet, he says, "we do not lose heart. Though outwardly we are decaying, yet inwardly we are being renewed day by day. For our light and momentary afflictions are achieving for us an eternal glory that far outweighs them all. So we fix our eyes not on what is seen, but on what is unseen. For what is seen is temporary, but what is unseen is eternal" (2 Cor 4:16-18).
Principle # 9: Weakness points us to that glorious, powerful, imperishable body that will be ours at the resurrection.
Our present bodies — these jars of clay — are full of weakness; they're decaying and perishing; they're full of dishonor. Yet one day they'll be raised in power, imperishable, and with fantastic glory! (1 Cor 15:42, ff.)
It's as if the weakness is partly there to help us yearn for the day when all this is
 behind us… to keep us from getting too attached to these inferior, broken-down, sin-marred bodies of ours… to remind us that "this world is not my home — I'm just a travelin' through!"
Why weakness? Weakness is our friend if it dissatisfies us with this present life, if it points us to the glory awaiting us at the resurrection to eternal life, if it fixes our eyes on the unseen rather than the seen.
As we bring this brief survey on weakness to a close, it is highly probable that God has entrusted you with some sort of affliction. Is it to help you realize your need of His strength? to better display His power? to keep you from exalting yourself? to refine your character? to discipline you? to allow you to identify with Christ? so that you would have a costly offering to give your Savior? to keep you from becoming too attached to your mortal body? or some combination of these?
It's not likely that you will readily understand or appreciate His hand in this. But I pray God's abundant grace to you, friend, as you seek to embrace the unwelcome providence of weakness… for His glory and your growth.
Blessings,
Topics: Pastor's Blog | Comments Off
By Paul Cochrane | February 7, 2013
Dear Woodland Hills Family,
      Adoration of the Magi c.1725
When you hear the word 
offering
 any number of images or associations may flash through your mind:
an offering plate
an animal on an altar
a gift
appeasement
guilt
I think the truest depiction of offering comes to us from the magi who came to see the One born King of the Jews: After coming into the house they saw the Child with Mary His mother; and they fell to the ground and worshiped Him. Then, opening their treasures, they presented to Him gifts of gold, frankincense, and myrrh. (Matthew 2:11)
At its most basic, an offering is a gift.
I believe one reason God allows us to experience weakness is so that we can have a gift to present to the Lord Jesus Christ. Paul seems to have viewed his own weakness that way: Therefore I am content with weaknesses… for Christ's sake.
(2 Corinthians 12:10)
As you know, Paul was troubled with the fact of and the why of his thorn in the flesh. He earnestly sought the Lord to remove it from him. Over time, though, he came not to resent it or even merely accept it, but to see it as something for Christ's sake. It had become a present. A gift. Something of great cost that he could lay at Christ's feet. It had become his offering to Christ.
We, too, can choose to welcome an otherwise unwelcome weakness as somethingfor Christ's sake.  When we resolve to be content with our weakness we allow it to become a beautiful present, a precious gift, a costly offering to the Lord Jesus Christ.
For Christ's sake,
Topics: Pastor's Blog | Comments Off
« Previous Entries